Simonsbath
Another new Croydecycle map has just come out, 53 Exford. It sits between the Dulverton and Horner/Dunkery ones and covers the area between Simonsbath, Exford, Withypool and Winsford. I will update the walk descriptions in the area to include reference to the map.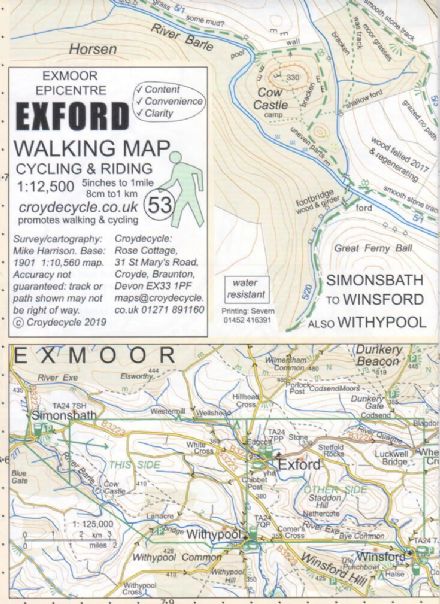 All the 50 planned walks are now up (the much-delayed Exford to Simonsbath route went on last week), and I have also added detailed notes on the Herepath.
As I do additional walks that I think are worth including I will put them on: two extra ones from Dulverton have just gone up (27A Tarr Steps and 28A the Ansteys), and plans over the winter are for a coastal walk near Ilfracombe and a circuit from Wheddon Cross. I must also add a coastal walk to the Quantocks section.
My recce for Walk 22 (Exford to Simonsbath) has been postponed until later in July, but I have written up and posted the reverse route via Withypool which I did a little over a year ago (walk 22A). The two walks will make a 20+ mile circuit, either for a long summer's day or over two days with a break in one or other of the villages.
I'm also beginning to post some additional routes such as 3A (inland from Hunter's Inn) and 5A (the Lyn gorges). There's nothing systematic about this so additional walks will appear as and when I do them.