Maps
I'm a fan of Croydecycle maps for their detail, clarity, accuracy, helpful information, useful size, and resistance to rain and mud. Three new ones cover the inland Brendon Hills area:
14 Roadwater, including Ralegh's Cross, Nettlecombe and Carhampton (relevant to walks 35 and 36)
15 Timberscombe and Luxborough, spanning from Kennisham to Dunster and Wootton Courtenay (30, 31 and 37)
16 Wimbleball and nearby Exe, across to Dulverton and Winsford (most of 29, 39, 39A, part of 41A).
More details are here: http://www.croydecycle.co.uk/mapsandguides.htm#walkingmaps
Another new Croydecycle map has just come out, 53 Exford. It sits between the Dulverton and Horner/Dunkery ones and covers the area between Simonsbath, Exford, Withypool and Winsford. I will update the walk descriptions in the area to include reference to the map.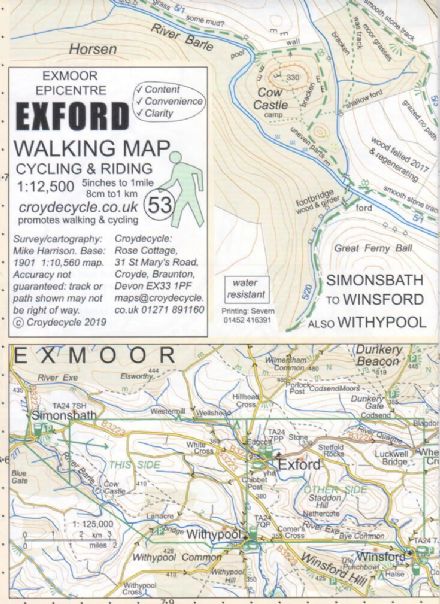 There's a new Croydecycle map just out covering the area between Dulverton, Winsford and Withypool: http://www.croydecycle.co.uk/north-devon-walking-maps_large.htm#dulverton Covers walks 27, 28, most of 25, and planned 27A. This is my home territory and I'm finding it very useful - I now have multiple copies!
One correction to the bus information on the map, the 198 bus to Wheddon Cross, Dunster and Minehead leaves Dulverton at 10am (via Winsford and Exford) and 3pm (direct). There's also an earlier bus, at 7.10am on Saturdays and school holidays (via Winsford and Exford), and 7.50am (bus 467) on schooldays (not via Winsford and Exford!). I find the 10am bus useful for connecting walks such as 24, 25, 26 and 29.