extra walks
I have added two more walks to the site:

walk26a.pdf An alternative circuit from Winsford, circling Winsford Hill anticlockwise.

walk39b.pdf A figure-of-eight on the eastern side of Wimbleball Lake, starting from Bessom Bridge and including the old church (St James's Tower) at Upton Farm.
I'm concentrating on updating existing walks so these will be the last new walks for a while.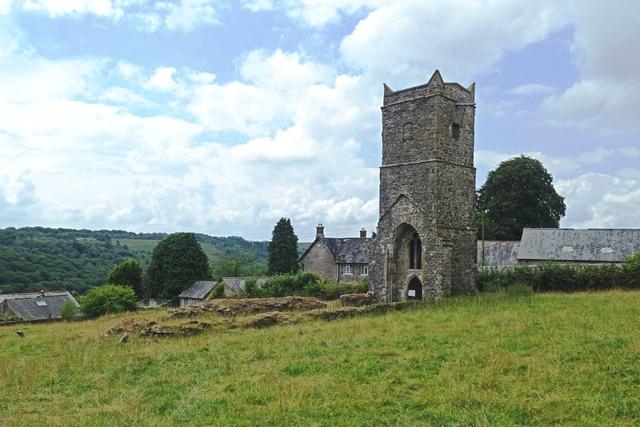 St James's Tower, Upton
I have added a new walk from Lee Bay (Lynton) to Woody Bay,

walk4a.pdf. The first part heads out through Caffyns Heanton Wood, along the Bonhill valley and over fields before descending to Woody Bay, where it picks up walk 4 to return to Lee Bay. It can be started from either Lee Bay or the parking area above Woody Bay. Hardy walkers may want to start it from Lynton or Lynmouth, combining it with walk 5, or from Hunter's Inn, with the circular alternative walk 4.
The Lynton area walks were starting to cross over in a less than logical way, so I have done some rationalisation to help with linking walks together. All the circular routes in the area are now clockwise, i.e. they head east along the coast and west inland. The circuits are fairly short (5-7 miles) but they are hilly and easily make the 'blue' category - so combining two together will involve around 1000 metres of ascent. If anyone does the marathon circuit of all four walks between Hunter's Inn and Watersmeet in one go, please let me know - it's nearly 19 miles with 1850m of climbs!
Walk 4 stays the same - Parracombe to Lynton - including the alternative circuit from Hunter's Inn to Woody Bay. This can easily be linked with walk 4A.
Walk 4A links with walks 4 and 5.
Walk 5 is now clockwise, with slightly amended instructions for the short walk around Hollerday Hill. It links with walks 4A and 5A.
Walk 5A no longer has the clockwise version of walk 5 as an extension - it simply links to walk 5.
Walk 5B stays the same (and is anticlockwise, which allows the outward part to be used as an alternative return for 5A).
GPX files for 4 alternative, 4A and clockwise 5 are now on the GPX page.
Here are the routes in a diagram:
I've added two new walks in the Minehead area, both enjoyable routes that are not too long or strenuous:
12A heads out from Minehead to North Hill and around Bratton Ball, returning via Woodcombe and the parks walk. It's just over 6 miles and has 430 metres of climb, mainly on the first half.

walk12a.pdf
14A starts from Horner, heads uphioll through woods to Webber's Post, then along the side of Dunkery Hill on the Dunster Path. The return route visits the Woodcock Gardens nature reserve and the pretty village of Luccombe. Luccombe has been an omission from the walks catalogue, now put right on this walk. 6½ miles with 370 metres of climb.

walk14a.pdf
GPX files added 5.12.20.