Book
Walking Dulverton and area is now out!
The book describes 14 main walks, with 30 routes in all, covering the area between Bampton, the Ansteys, Exford, Winsford and Wimbleball Lake, centred on Dulverton. Most walks are between 5 and 14 miles, and there is a town trail and a short walk to Marsh Bridge and Court Down.
The book is available from the National Park Information Centre, Exmoor Society and the Tantivy in Dulverton, the Village Shop and Post Office in Withypool, or directly from this site (see the book page).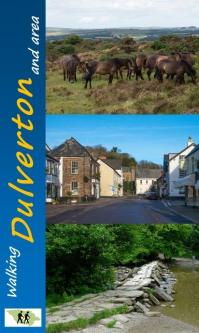 If you have visited the site previously you will have noticed that all except the Quantocks section have been divided up into smaller areas, e.g. the high Exmoor page has been divided into west, south central and north central, and the Exmoor coast into east and west. Some walks are on more than one page, so for instance Lynton walks appear on both east and west coastal pages. This is simply to stop the list of walks on each page getting too long, and the maps too cluttered.
There are now 66 main walks on the site, and I'm intending to add four more - Wistlandpound, additional ones in the Oare and Dulverton areas, and a linear inland walk probably between Porlock and Dunster. I will also expand Walk 0 to include an alternative route from Mortehoe along the coast to Ilfracombe. Then I will concentrate on getting the book out as well as revisiting some of the earlier walks.
About the book, the 'manuscript' is finished, and I'm now awaiting decisions about publication and whether it will be full colour or monochrome. More to follow.