Book
Walking Dulverton and area is now out!
The book describes 14 main walks, with 30 routes in all, covering the area between Bampton, the Ansteys, Exford, Winsford and Wimbleball Lake, centred on Dulverton. Most walks are between 5 and 14 miles, and there is a town trail and a short walk to Marsh Bridge and Court Down.
The book is available from the National Park Information Centre, Exmoor Society and the Tantivy in Dulverton, the Village Shop and Post Office in Withypool, the Exmoor Stores in Exford, or directly from this site (see the book page). If you want to order it from a bookshop the ISBN is 978-0-9555441-2-5.
Book updates are here:

bookupdates.pdf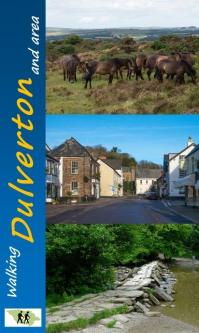 Nigel Stone's book 'Exploring Exmoor from Square One' is now out, published by Halsgrove. Nigel was until recently the head of the National Park Authority as well as being an accomplished photographer, and one task that he set himself was to take a photograph in every kilometre grid square on Exmoor. The book is more sensibly based on 2x2km squares (there would be around 700 entries otherwise), with excellent photography accompanied by short narratives about each place. It works well as both a coffee-table book and a reference guide. I worked my way through each of the 170 squares over a few coffee and tea breaks, and now refer back to relevant sections as a source of reference (there is a useful atlas-type key in the front). It's available from several outlets in Dulverton, and direct from the publisher.